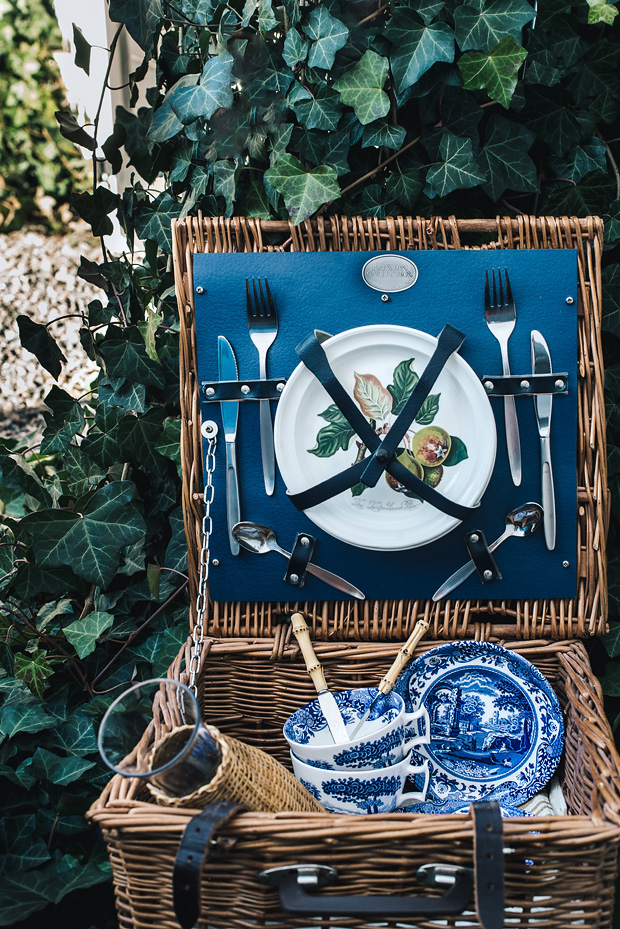 Vad går en anglofil med sommardrömmar igång på vintage? Naturligtvis blev jag ett lätt offer för denna brittiska picknickkorg för etthundratjugofem kronor av märket Brexton. Det säljs alldeles för få saker numera där det sitter en liten lapp med kvalitetsmärkning på, ett kontrollnummer och meningen "This hamper is a quality possession which, if properly cared for, will give a lifetime´s service and a great deal of pleasure". Korgen levererades med en liten kaffeservis med små mattallrikar, termosar, duk, mjölkkannor och sockerströare. Eftersom jag aldrig dricker kaffe var jag tvungen att börja piffa lite med annat brittiskt.
Läderremmar på detta sätt till rotting – något av det allra vackraste. Korgen är i handflätad pil och förtjänar väl att matchas ihop med Spodes klassiska Blue Italian.
Detta kommer bli min första sommar på bra många år som jag är bilförare. Så nu skall vi ut på utflykt, korgen och jag. Att duka upp på väg med denna korg och tillhörande porslin är nörderi på en nivå som jag älskar. Rule Britannia!
♡