Vårvindar friska. Trädgården skänker grön glädje, kanske ännu mer denna gång. Lökväxterna tränger fram ur jorden. De gröna bladen börjar spira. Det sedvanliga uppvaknandet i en värld där allt är annorlunda. T. S. Eliots klassiska The Waste Land ekar ödesmättat i år.
April is the cruellest month, breeding
Lilacs out of the dead land, mixing
Memory and desire, stirring
Dull roots with spring rain.
Winter kept us warm, covering
Earth in forgetful snow, feeding
A little life with dried tubers.
Att hämta styrka i det lilla som årets första trädgårdsbukett. Inget märkvärdigt alls när mycket ännu står i startgroparna, men just de där lökarna som sattes ned i höstas och som nu ger primadonnor som doftar citron. Vinbärsbladen mellan fingrarna. De svällande knopparna som skall bli till stora fång i famnen. Jag önskar oss alla syrendoft i vår. Speciellt min mormor Birgit.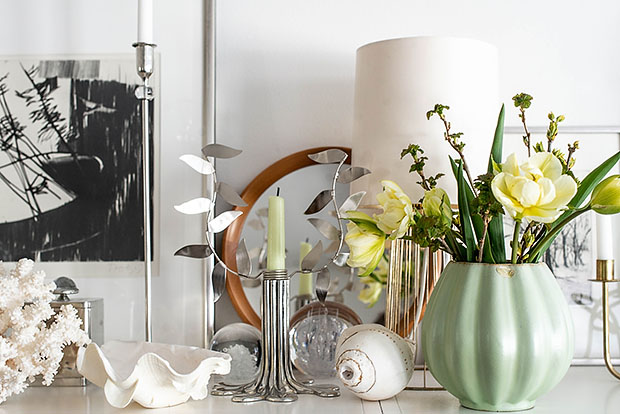 Påsken har plockats ned och de skira pastellernas tid är här. Det celadongröna är aldrig så fint som just precis nu. Här i vas från Örjan Keramik – en kundserie som gjordes för varuhusen EPA – inte osannolikt av Upsala Ekeby.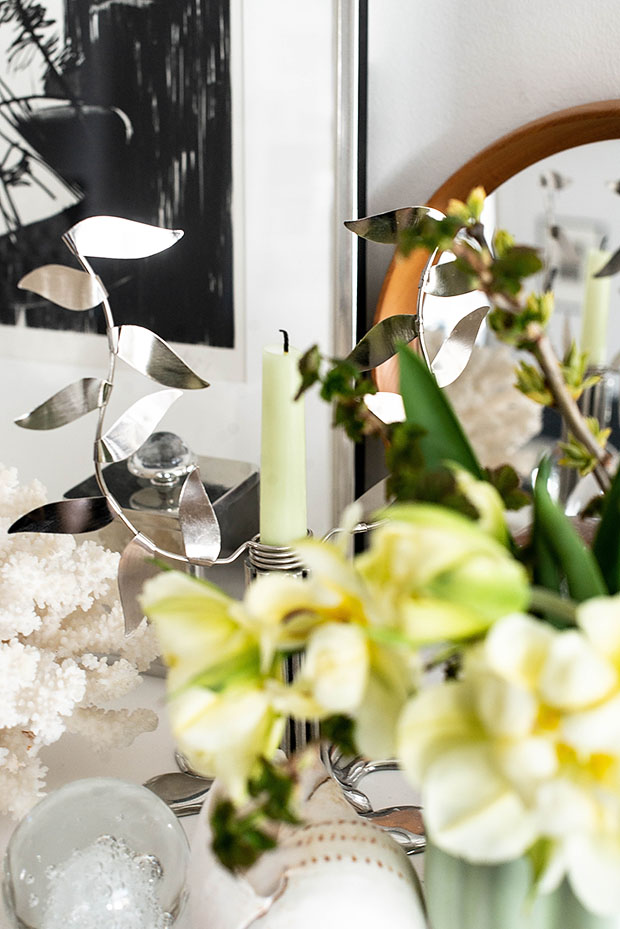 Än sänker sig kvällsmörkret och ljusen tänds upp. Även här får det vara grönt ett tag i ljus från ICA som reflekteras i ljusmanschetten. Må alla syrener blomma.
♡